What are the advantages of square duct machine
ACL Machine is a metal working machinery manufacturer in China, and enjoys a good reputation in manufacturing production line for decades. Our products are ranged from used milling machines for sale, used industrial equipment for sale to sheet metal roller for sale, square duct machine. Today let ACL Machine introduce you the advantages of square duct machine.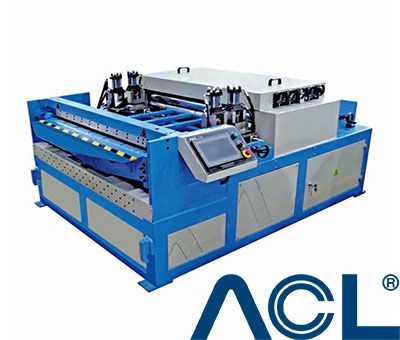 First of all, the rectangular ductwork is usually made of galvanized iron sheet of mechanical windmill, which is not easy to destroy, thus prolonging the service life of duct making machine pipe. Secondly, duct manufacturing machine pipes do not use angle steel flanges, pipe flange materials are more uniform and balanced, in this way, it can reduce the weight of 20%, in a further way, this can greatly reduce the overall cost of the buildings. Usually speaking, the duct fabrication machines tube is 3 to 6 meters long, rectangular ductwork tube is between 1 meter long and 1.5 meter long, which also can reduce the numbers of the joint point and can minimize the leakage. Thirdly, duct manufacturing machine pipe can improve production efficiency and shorten delivery cycle effectively. The advanced spiral wind mill computer can optimize the production process control program and ensure the dimensional accuracy of the pipe parts so as to ensure the quick and convenient installation and improve the working efficiency and economic benefit. Fourthly, production line duct manufacturing machine pipe fittings and spare parts are standard sealing rings, in this way, it can help to standardize the factory production. At the same time, with scientific boring, melting and bending method, it can ensure the duct fabrication machines pipeline to be air flown, meanwhile do not affect the duct fabrication machines pipe flow diameter at all. The last but not the least, the welding method is unique, which adopts the new form of cold pressing welding and does not cause the product galvanized layer damage, at the same time, the solder joint is firm, the weld seam appearance is good, the most important thing is that you needn't do any treatment after welding seam.